Few artworks have been reproduced as often as Klimt's "Kiss". Museum shops from around the world sell thousands of items inspired by details from this 1908 painting, from tote bags and posters to umbrellas and teddy bears. Why is this particular painting so special to so many people? Let's find out!


Klimt. Gustav Klimt (1862-1918) was an Austrian symbolist painter and one of the founders of the Viennese Secession movement. Klimt's paintings and murals were often considered controversial by his contemporaries, and some of his works were even destroyed by Nazi Germany. His most beloved subject was the female body, and his style was influenced greatly by traditional Japanese art. Although many of his works were allegorical, his depiction of erotic scenes was highly criticized during his lifetime.

The Kiss. "The Kiss", along with the famous portrait of Adele Bloch-Bauer, is one of the masterpieces of Klimt's "golden phase". The painting depicts an embracing couple surrounded by a vast golden surface. It is an archetypal image of passion and tenderness which is currently on display at the Belvedere Museum in Vienna.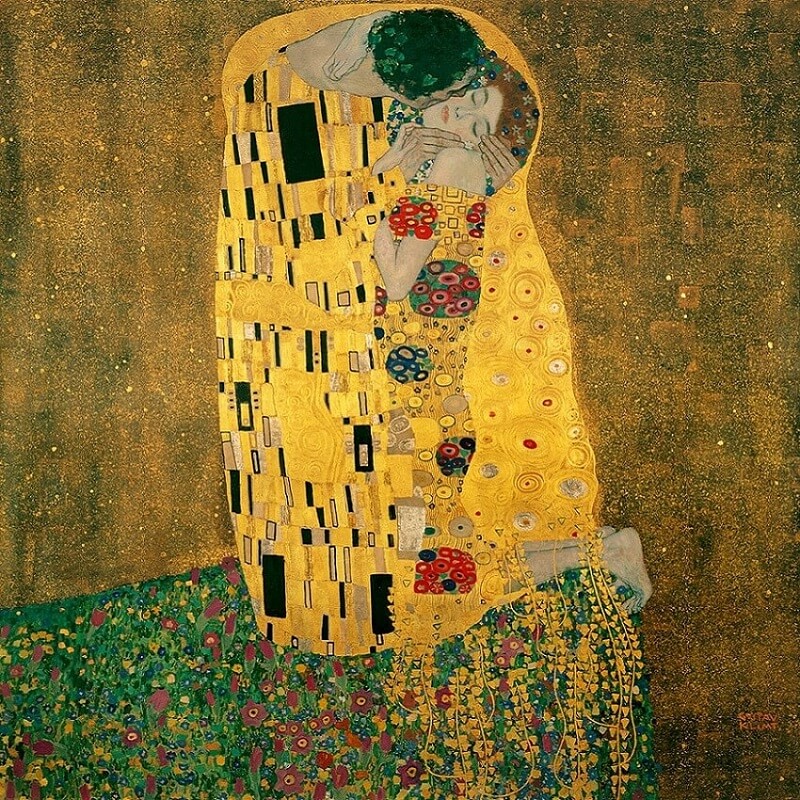 The Couple. Some historians believe the couple represents the artist himself and his lover Emilie Flöge, but as Klimt is known to have had many partners during his lifetime, the identity of the female figure is uncertain. The male and female figures are symbolically covered in different ornaments, reflecting the artist's own understanding of the masculine and feminine energies.

Symbolism. The male lover, who seems larger than the female figure at first glance, is decorated with geometrical ornaments, symbolizing his strength, while the woman is embellished with floral motifs representing nature, maternity and tenderness. Klimt didn't put the focus on the male portrait, whose facial features are concealed, but accentuated the soft features and mysterious smile of the female figure. Although it appears the man dominates the composition, the woman's kneeling position suggests she would tower over him if the figure would be standing upright. The decorative elements and use of gold leaf in "The Kiss" almost resemble those of religious painting, making the portrait a timeless representation of immortal love and devotion.