You've probably been to a Halloween party where someone came dressed up as Salvador Dali? And everybody knew who he was, right? But how did this famous surrealist artist become so iconic and so easily recognizable? And was Dali really this big artistic genius? Or was he just a gifted performer and businessman? Let's find out!

Salvador Dali died on 23rd of January in 1989 at the age of 84 in his hometown called Figueras. During his long and prolific career he managed to provoke, intrigue, fascinate, and make many, many different artworks. But Dali also worked on building a fascinating public persona through which he earned money. With his signature thin and spikey mustache, to which he even dedicated a photo-book named Dali's mustache, the surrealist artist created an emblematic image of himself that would help him become globally famous. To many, this image we have of Dali still represents the idea of a mad genius artist: the crazy and irrational, but talented one.

But did Dali think he was crazy? During an interview for the program called This Hour Has Seven Days Dali said the following: Dalí is almost crazy, but the only difference between crazy people and Dalí is Dalí is not crazy. Well you wouldn't expect to hear a regular answer from a surrealist, would you?

Salvador Dali became known for many things: his eccentric style, the weird art objects he made like the lobster telephone and the couch inspired by Mae West's lips, or his surrealist paintings that aimed to explore the unconscious side of the mind. He even designed the logo for a famous lollipop brand called Chupa Chups. The famous Spaniard illustrated Dante's Divine Comedy, Cervantes's Don Quixote, Carroll's Alice in Wonderland, and Shakespear's Romeo and Juliet. He even collaborated with Walt Disney on a short film called Destino in 1945. The unconventional artist starred in numerous commercials, promoting things from Alka Seltzer to Lanvin chocolates. He also wrote a surrealist cookbook, bought a castle for his wife Gala and came up with his own theater-museum that was inaugurated in 1974 in his Spanish hometown.

Dali really did it all! He was invited to American television shows like the famous What's my line program or The Dick Cavett show in which he appeared wearing a velvet suit and his trademark cane, bringing an actual anteater along with him. Even during his younger days, Dali was an eccentric person. He believed that he was a reincarnation of his deceased older brother who he was named after.

He also knew how to make an entrance! In 1936, the Spanish artist gave a lecture in London dressed in a diving suit. And he almost suffocated while wearing it. And in 1955, he came to a lecture in Paris driving in a Rolls Royse limousine that was filled with cauliflower. Taking all of this into account, it is safe to say that Dali was a natural performer. Always a bit quirky and unpredictable, Salvador Dali became an artist who was also a celebrity. In short, he created a brand out of himself.

But was Salvador Dali really this big artistic genius? Well, he certainly thought he was. The artist even called himself the biggest genius of the modern times. In his autobiography titled the Secret life of Salvador Dali, the surrealist artist wrote that he had the unmistakable facial morphology of a genius. Dali also mentioned that Gala, his longtime muse, immediately considered him a genius, one who was half mad, however. In his other autobiography, the artist made his opinion of himself even clearer, he called this written piece of work a Diary of a Genius. Not very modest, indeed, don't you think?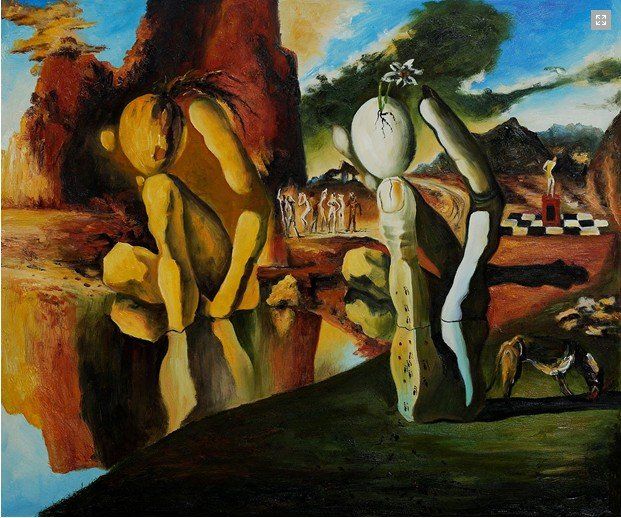 Metamorphosis of Narcissus by Salvador Dali - 1937, Tate Modern

One thing is for certain though, Dali was a multimedia artist and a skillful painter. He could draw or paint almost anything. Let's have a look at his take on the famous mythological figure of Narcissus, you know, the one who became obsessed with himself. Dali's surrealist version of the myth is called the Metamorphosis of Narcissus. The painting shows Narcissus' double image crouching and looking at his reflection in the water. The head of one of the two figures that we see here looks like an egg from which a flower named after Narcissus grows, while the second Narcissus's head looks like a cracked walnut. Dali also wrote a poem to accompany the painting. Narcissus is known for falling in love with his own image, so could Dali have identified with this ancient myth? Maybe! It certainly doesn't sound totally impossible. Dali even brought the Metamorphosis of Narcissus with him when he went to meet Sigmund Freud for the first time after numerous failed attempts. The famous Austrian psychoanalyst's theories and books served as a great source of inspiration for many surrealist artists, Dali included. This unusual pair finally met in London in July of 1938 and during the meeting Dali created numerous sketches of Freud.

The Spanish artist obviously cared deeply about what he wore and how he presented himself in public, but he also wanted to try his luck in fashion as a creator and collaborator. Together with his friend Elsa Schiaparelli Dali designed a dress inspired by his obsession with lobsters which he saw as symbols of sex uality. So, in 1937, a piece of fashion history called The Lobster Dinner Dress was born. Schiaparelli and Dali also created the famous Tears dress that was a part of Elsa Schiaparelli's 1938 Circus collection. The pink, black and magenta tears that were printed onto the dress were designed by Dali himself, inspired by one of the dresses seen on a female figure in his 1936 painting called Three Young Surrealist Women Holding in their Arms the Skins of an Orchestra. Together, the two flamboyant figures also created quirky pieces like the Skeleton Dress and the famous black Shoe Hat. In a way, Schiaparelli and Dali became one of the pioneers of fascinating collaborations between artists and fashion designers that still exist today.

Dali turned to fashion once again when he designed multiple covers of Vogue Magazine during the late 1930s and the 1940s. The 1939 June cover of Vogue shows one of his famous motifs seen in his paintings: a woman whose surreal head is fully made out of flowers.

Salvador Dali certainly has an important place in the history of pop culture of the 20th century. The artist helped make surrealism widely known by using his bombastic public persona that, along with his trademark mustache, remains recognizable to this day. When people think of surrealism they often think of Dali himself. The artist's bizarre behavior might just be as famous as his actual works of art.

What do you think of Salvador Dali? Was he really a genius or was it all a carefully created persona that he came up with? Could it be both? Let us know in the comments below and don't forget to subscribe to us on YouTube and Instagram for your regular dose of culture from Curious Muse.